1 / 2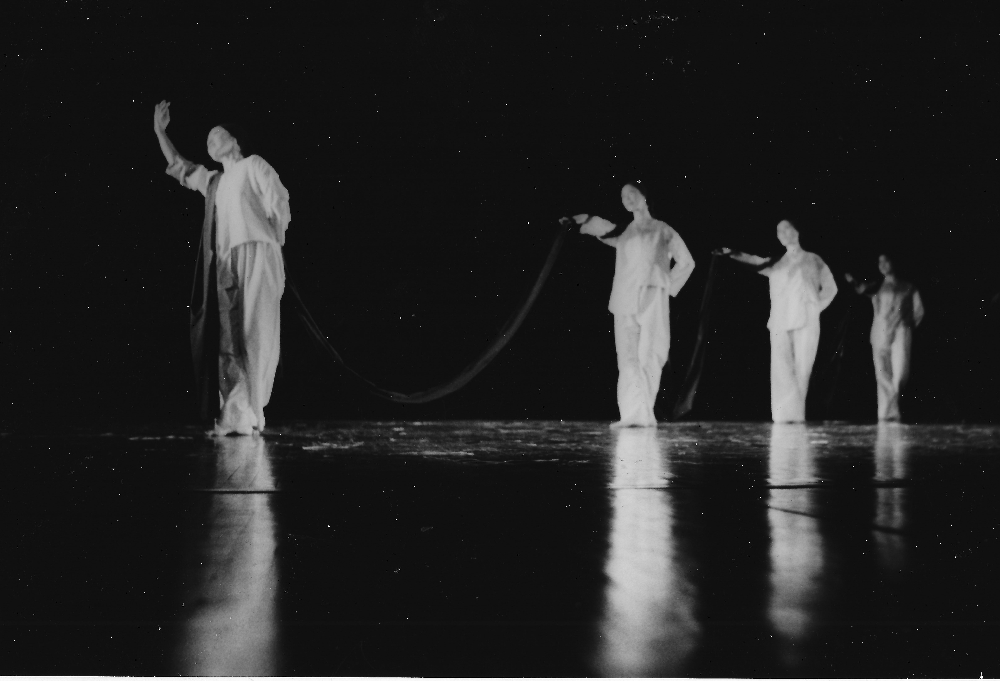 Passage. 1978.
Music: Korean Shamanistic
Costume: Kwok Yee Tai
2 / 2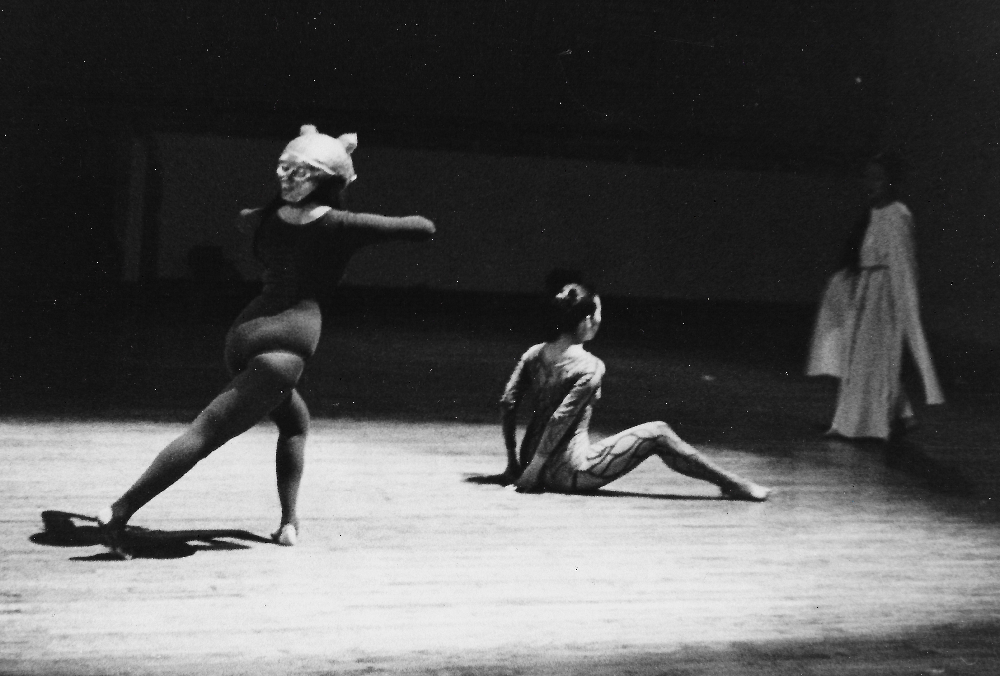 Standstill. 1976.
Mask: Robert Lee
❮
❯
The following section is contributed by Gabriella Oldham. Excerpts appeared in the Asian American History and Culture: an Encyclopedia, 2015, Editor Huping Ling.Excerpt reprinted with permission from the author and editor.
ARTISTIC DIRECTOR
As founder and artistic director of AADT, Eleanor Yung choreographed many original works for the company. Born in Shanghai after World War II and growing up in Hong Kong, Yung continued her education during the 1960s at the University of California in Berkeley (sociology) and Teachers College, Columbia University in New York (dance education). The struggles of Chinese immigrants who strove to better their lives while coping with an unfamiliar culture inspired many of her dance pieces. Yung herself encountered Americans' misplaced curiosity that she could speak English so well, and their assumption that her repertoire would only include traditional Chinese ribbon dances. She noted that, ironically, some of these misconceptions came from Asians themselves.
In her essay "Moving into Stillness," Yung commented that AADT continually evolved to reflect its environment. It challenged mainstream America's views not only of Asian dance, but also of Asians themselves. Yung avoided choreography that mimicked traditional Asian movements, such as t'ai chi chuan [Taichi, or tai chi] which "merely copied its superficial aspects, but failed to penetrate into its spirit" (Bridge: An Asian American Perspective, May 1975). Nevertheless, despite her efforts to amalgamate the two dance cultures, Yung was also criticized for presenting traditional Asian dance forms in a company labeled Asian American; some audience members even protested by walking out of a performance. Her critics believed that Asian dance could not be Asian American although, as Yung acknowledged, it was created in the U.S., performed by its citizens, and displayed in American communities.
To achieve this cross-cultural perspective, her choreography tried to "blend the East-West traditions harmoniously, and not just mechanically." Yung's own experiences were like "stepping constantly between two conflicting worlds." Still, this mix of styles and modes of expression challenged Yung to find a balance that validated through dance the experience of being Asian in America.
One of the first works was a collaborative piece with Danny Yung. The piece entitled Identification in Progress #1,2,3 (1976) was "…structural. Creating definitive positive and negative space was significant in the choreographic process…" Another work equally significant was Water Portrait (1975) a narrative style piece. Combining these two approaches helped define Eleanor's choreographic approach.
Passage (1979) translated the movement, emotions, and transformative nature of immigration into a vocabulary of ballet and Chinese dance structured by modern dance. Yung had hoped to use "egg masks," white face coverings without eye or nose openings, but they were too intrusive for the six dancers, who needed to focus on intricate directional movements across the stage. "The dancers were in colorful, elaborate, traditional-like robes, made from sheer, shiny fabric, and patched to look like the paper dolls used for burning in rituals for the dead. As the piece developed, layers of this costume were shed until finally the dancers were in neutral solid colors of beige, pale blue and gray cotton shirts and pants." The New York Times called Passage "a hypnotic minimalist ritual set to Korean shamanistic music" that succeeded in depicting the fusion of modern and traditional dance. "The dance builds from simple diagonal stage crosses to a rich but highly formal interweaving by accretion of gesture and increasingly charged dynamics, with slightly asymmetrical stage patterns" (10/27/79). Another reviewer commented that the choreography "penetrates profundities that leave one aghast at a people who have been grappling with the meaning of life probably longer than anyone else" (Otherstages, 4/21/83). "Eleanor S. Yung's extraordinary 'Passages"… came closest to that fusion (of modern and traditional dance styles) … one was drawn, mesmerized, into the unfurling of its design." Jennifer Dunning, The New York Times, 10/27/79
The "ordeals of immigration" reappeared in Madhouse (1978), performed without musical accompaniment, or what The New Haven Register called an "ominous silence." Gray and black-clad dancers moved expressionlessly in "invented forms… circular, linear, interweaving" (4/15/79). Based on a poem by Dan Tashima called "Madhouse," Yung elaborated on the theme of oppression, using a unique "braiding" pattern as her major movement structure. The dancers personified definitions of space and existence, aimlessness, aggression and passivity, oppressor and oppressed. The overall effect was fluid communication of "highly intensified emotions" that created" wind tunnels across the room." The New York Times noted how Yung "abstracted in the dictionary sense of taking away or removing qualities. From emotions associated with specific experiences she has made dances that, while they literally refer to nothing outside themselves, nevertheless possess the emotions of the original experiences that inspired them" (4/25/78).
Kampuchea (1981) was Yung's "response to the destruction of one culture by another, and its reemergence from within the aggressor," particularly the atrocities in Cambodia. Meant to have three sections, only two were performed initially because the third section needed some "resolution" to the horror, which Yung could not imagine. Eventually, however, "the third section came to me as if from nowhere, with no shape nor form…. It was Shiva, birth and destruction at once… vibrant, sensuous, powerful, and deadly…. dancers signifying aggression identify themselves,…exist like the rest of the world, and, ultimately, reflect images of the totality." Although Kampuchea was one of her favorite pieces, Yung felt it never achieved the fullness required to impart its complex theme.
Because the Chinese "ribbon" dance was probably the only knowledge of Asian dance many Americans had, Yung developed solo pieces based on, yet deviating from it. Ribbon Dance (1976) used black and white double ribbons instead of the usual red. Yung stressed the sensation of "stillness" in this piece to enunciate her own presence. "The piece opened with me standing squarely facing and slowly approaching the audience, which was not proper in traditional Chinese dance…. My presence emphasized the presence of the totality of me, history, culture, lineage, heritage, and my people."
AADT introduced many other important works choreographed by Yung, performed nationally, funded by fellowships and grants, and reviewed by major media. Crystal Rainbow (1980) (which Yung choreographed while pregnant with her daughter Onie) was performed with many Chinese props such as fans, a farmer's hat, and sparkling silk handkerchiefs; the piece "hinted at layers of memory, perhaps, of an Asian emigrant" (The New York Times, 4/11/83). Origami (1982-1983) was transmuted from images of paper cranes into a graceful dance that used circular floor patterns to create a multitude of spirals; this piece could be performed as a three-minute solo, a six-minute duet, a nine-minute trio, or a fifteen-minute dance for five. In Silk Road (1984), performed to Kitaro's music (and debuting four-year-old Onie), with a commissioned work from visual artist, Zhang Hongtu, commemorated the 200-year trade anniversary between China and the U.S.; many movements were drawn from Buddhist motifs found in cave carvings.
"Eleanor S. Yung's choreography in Silk Road masterfully fused the idioms of Western and Asian dance…. The dance evolved in what became an increasingly stratospheric space – the space of memory, where history can appear in a thousand fleeting images. At the center of the piece, two dancers performed a stunning sequence of tableaux quickly sketching moments of desire and conflict."

- John Phillip Santos, Arts writer, San Antonio Express, 5/21/84
Yung's contemporary choreography can be viewed on video at the New York Public Library for the Performing Arts at Lincoln Center.
Concurrent to her work with AADT, Eleanor Yung collaborated with notable choreographers Saeko Ichinohe, Sun Ock Lee, and Reynaldo Alejandro in the Asian New Dance Coalition for three performance seasons 1979-1980. The choreographers reflected traditions of dance in China, Japan, Korea and the Philippines, respectively. The concerts were presented at Riverside Church and at Marymount Manhattan Theater.
References
Anderson, Jack. "Dances with Pacific Origin."
The New York Times
, April 25,1978.
Desmond, Jane. "Asian American Dance Theatre, at Cornell University."
BRIDGE: An Asian American Perspective
, Summer 1978.
Dunning, Jennifer. "Dance: Asians Fuse Two Styles."
The New York Times
, October 27, 1979.
Dunning, Jennifer. "Dance: The Asian American."
The New York Times
, April 11,1983.
Dunning, Jennifer. "The Dance: 'Silk Road,' By Miss Yung."
The New York Times
,April 8, 1984.
Ebert, Carl. "Asian American Dance Theatre of N.Y."
BRIDGE: An Asian American Perspective
, May 1975.
Moore, Bill. "An Asian Balm."
Otherstages
, April 21, 1983.
Stodelle, Ernestine. "Asian New Dancers Interweave Identities."
The New Haven Register
, April 15, 1979.
Yung, Eleanor. "Madhouse."
BRIDGE: An Asian American Perspective
, Summer 1978.
Yung, Eleanor. "Moving into Stillness." In Sharon K. Hom (Ed.),
Chinese Women Traversing Diaspora: Memoirs, Essays, and Poetry
(pp. 165-187). New York:Garland Publishing, 1983.