Asian American Dance Theatre
THIS PAGE IS UNDERGOING MODIFICATION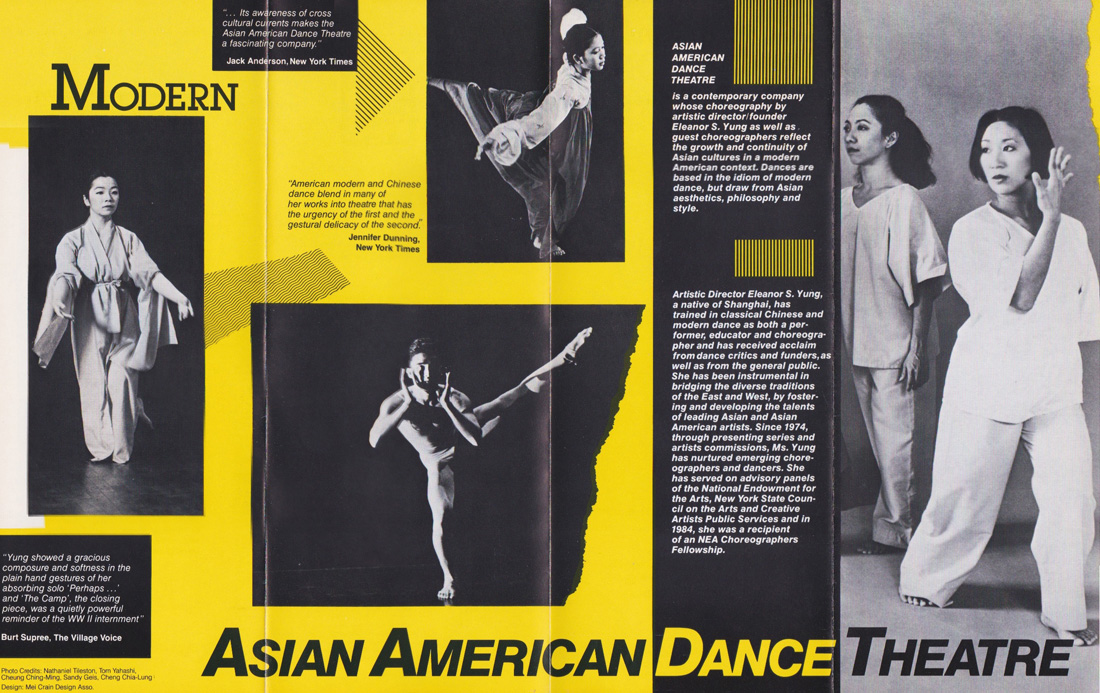 History
The Asian American Dance Theatre (AADT) began as the Asian American Dance Workshop, a program of the Basement Workshop in New York's Chinatown. As founders of the Basement Workshop, Eleanor Yung and brother Danny Yung began a separate organization in 1974, the AADT, to create and promote Asian American dance. AADT was active from 1974-1990 with multiple types of programming including performances, presentations, and education. In 1987, with an increase in significant visual arts programming, the AADT changed its legal name to the Asian American Arts Centre (AAAC), encompassing dance, visual arts, and folk arts programming in performances, exhibitions, research and education.

AADT was notable for its two distinct repertoires: a traditional repertoire and a contemporary repertoire. The traditional repertoire celebrated and addressed the cultural roots of Asians in America, featuring diverse folk and classical dances of many countries of Asia, touring extensively across the country....



Traditional Dance and Touring
Beautiful and gifted performers from Asia would visit or immigrate to the U.S. in the 70s and 80s, and landed in New York City, the cultural hub. Whether AADT sought them out, or they found AADT, they became an invaluable part of the AADT dancing family. These were dancers from China, Japan, Korea, India, Indonesia, the Philippines, and Polynesia. They brought with them and expressed their cultural heritage. They not only enriched the American dance scene, but also the lives of their audiences illuminating the richness of our multicultural country. They offered to their local audiences a global experience.

In their performances, the dancers expressed their cultural languages in beauty and aesthetics, spirituality and the sublime, simplicity and complexity, and most importantly the universal art of dance. In full costumes on stage, they not only enriched people's sense of their own heritage, they also opened up the understanding of movement and choreographic aesthetics for Americans and artists in general.

AADT traveled nationally to colleges and universities and to arts festivals throughout the 80s. In the early years, the company performed both traditional as well as contemporary dance. An ensemble of 8-12 dancers included soloists performing a repertoire of selected dances of Asia, as well as contemporary choreographies.When the cost became too difficult to manage, the touring company became primarily only traditional. They performed both indoors and outdoors, as well as on a smaller scale in lecture- performances enthralling all audiences. They brought their deeply rooted art forms to an American audience that had rarely seen traditional Asian dances. They were the ambassadors of that segment of American culture and dance.

In its contemporary repertory, the company draws upon traditional Asian dance and American modern dance for its aesthetic; both forms are the richer for it.
- Josie Neal, Dance Critic for The San Antonio Light, May 20th 1984

The AADT touring company traveled to Ohio, Pennsylvania, Wisconsin, Maryland, Virginia, Delaware, Massachusetts, New Jersey, Connecticut, North Carolina, Louisiana, New Mexico and upstate New York. Some notable locations included the Sister Fire Festival in Washington, DC, the Michigan Womyn's Music Festival, and a 9-campus tour for the Penn State University system.

The dancers (not complete list) included, Suarti and Suarni (Balinese), Endang Nrangwesti, Deena Burton and Carla Scheele (Javanese), Tomie Hahn and Sachiyo Ito (Japanese), Shakti, Arundhati Chattopadhyaya and Swati Bhise (Indian Bharata Natyam), Ananya Chatterjea (Indian Odissi), Kuang Yu Fong (Chinese Peking Opera and Kunqu), Chen Guo and Mao Zie Ming (Chinese), Sun Ock Lee, Young Lan Lee and Nayon Yun (Korean), Najma Ayasha and Janaki Patrik, (Indian Kathak), Marlene Pitkow (Indian Kathakali), Nancy Latuja, Luna Borromeo and Ray Tadio (The Philippines).

Eleanor Yung
The contemporary repertoire consisted of works by Artistic Director Eleanor Yung presented in its Annual New York Season, which also featured invited guest Asian American choreographers....
Annual New York Season
She [Yung] has made dances that, while they literally refer to nothing outside themselves, nevertheless possess the emotions of the original experiences that inspired them. They are fascinating dances. And its awareness of cultural crosscurrents makes the Asian American Dance Theater a fascinating company.
- Jack Anderson, The New York Times, April 25th 1978. Reviewing Identification in Progress and "Madhouse".

AADT's annual performance season in NYC from 1976-1990 presented works by Eleanor Yung and guest choreographers. These invited guests shared the program and shared their art in the creation of Asian American dance. Some of them were Danny Yung, Sincha Hong, Sharon Hom, Saeko Ichinohe, Audrey Jung, Junko Kikuchi, Satoru Shimazaki, Sachiko Takahashi, and Yung Yung Tsuai.

Performances were presented at venues including the Clark Center, the Riverside Dance Festival, Dance Theater Workshop, Open Eye Theater, the theater at Marymount Manhattan College, Schimmel Center at Pace University, and Synod House at the Church of St. John the Divine.

Dancers performing during the AADT season over the years included Marie Alonzo, Annie Bien, Vivien Chen, Evelina Deocares, Lauren Dong, Tomie Hahn, Mei Hsieh Guobis, Audrey Jung, Junko Kikuchi, Young Soon Kim, Wendy Lai, Jean Lee, Julio Leitao, Yen Leung, Yuen Wah Leung, Lynn Macri, George Mars, Haruka Namiji, Pam Noschese, Rumiko Oka, Elizabeth Roxas, Nancee Sasaki, Ray Tadio, Nayo Takasaki, Michiyo Tanaka, Josephine Teng, Boon Teo, HelenTran, Muna Tseng, Yung Yung Tsuai, Sanghi Wagner, Debbie Yamaki, Tamir Yardenne, and many more.

The company also performed as part of larger programs at the Riverside Dance Festival, Metropolitan Museum of Art, Lincoln Center, New York University, Statue of Liberty, Carver Community Cultural Centre in Texas, Mid-Fest in Ohio, Urban-Fest in North Carolina, and numerous other locales across the country.
D'Asia Vu
The D'Asia Vu Performance Series 1986-90 was the accumulated result of the Dance Discussions held by AADT dancers to voice their concerns related to the field of dance in the U.S. The D'Asia Vu Series presented Asian and non-Asian artists in Asian or fusion dance, theater, and music performances....


One of AADT's goals was to nurture upcoming choreographers and dancers, and to create space for Asian American dance, particularly at a time when ethnic and minority arts had scant exposure and found little support. At its home in New York Chinatown, AADT initiated Dance Discussions to explore and voice our concerns as dancers trying to survive in NYC while still maintaining an art close to our hearts. Two related major issues were the lack of performance venues and the lack of performance opportunities. The outcome was the launching of the D'Asia Vu series. The idea for this unique series was to expand the scope of art forms presented while providing opportunities for performing artists to reach new audiences in an intimate setting. It was a showcase of Asian and Asian influenced performances in puppetry, theater, music, dance, and performance art. The pieces were often experimental and some focused on synthesis of elements from different performing traditions. AADT opened its studio for D'Asia Vu from 1986-1990 presenting approximately 20 productions.

Some notable performances included the East West Fusion Theater founded by Teviot Fairservis Pourchot; Kuang Yu Fong's A Day at the Office created through a commissioned grant from NYSCA; Tomie Hahn's Leaf, original music by Curtis Bahn; Gary Gewant's Leela Puppets; music scholar Bell Yung's performance on the traditional zither instrument, the Guqin; Margaret Wolfson and Paula Bing of World Story and Music; The Odyssey Theater Company, traditional music by New York Music from China; Hai Yuen Chorus from Chinese Musical Arts, Yung Yung Tsuai dancing both folk and contemporary Chinese dance; Rumiko Tsuda's performing arts piece; Comyn Mo and Pia Ho of Zuni Icosahedron of Hong Kong; Skip LaPlante and Deena Burton; Jason Hwang and Genevieve Lam; Sun Ock Lee; Charlie Chin; Gerri Yoshida; Claire Iwatsu, Fred Houn, Barbara Chang, and Kwok Man Ho the Frog King.



Arts-in-Education
The Arts-in-Education program expanded from local presentations in community schools, libraries and community centers, to lecture-performances, Pointed Brush Workshops, and the Intensive Indian and Chinese Dance Workshops offered citywide....



Beginning in the mid 1970s, with a grant from then Lincoln Savings Bank, AADT did performances of Asian dance in the eight neighborhood public schools, five elementary, one junior high and two high schools, reaching the entire student body of young residents of Chinatown. The children saw authentic traditional Asian dance and one contemporary work. AADT offered the students a unique opportunity, as we were the one and only company that presented such a diverse Asian repertory at the time.

For many years, we were engaged through the organization Young Audiences to give lecture performances throughout the five boroughs of NYC. In 1978, AADT began an Arts-in-Education program through the NYC Department of Education's Arts and Cultural Education Network program developing culturally diversified programs for public schools, presenting lecture performances on traditional Asian dance in public schools throughout NYC. The Lecture-performances are assembly programs featuring 2 dancers representing two Asian cultures. They use language, storytelling, dance movements and gestures, as well as personal background and knowledge to create cultural exchanges with the children. In addition to the Lecture-performances, we also taught Intensive Indian or Chinese Dance Workshops. For a duration of 4 weeks, 2 dancers/teachers would teach selected classes culminating in a performance. This Intensive Workshop Program would be accompanied by an extensive Teachers Guide to help classroom teachers expand upon the workshop goals and contents.

We tried to present Asian dancers in schools a lot. I felt that children in schools had no exposure to the art forms of these cultures. The dancers were like ambassadors for their culture. Even people in Asian communities living here didn't get to see and experience these dances.
— Eleanor Yung, Excerpted from Chinese Women Traversing Diaspora: Memoirs, Essays, and Poetry (pp. 165-187) Sharon K. Hom (Ed.) 1983.

During those years in the 1980s, NYC was becoming more diverse with many children from Asian immigrant families attending the city schools. As part of the New York City Board of Education's programs, AADT brought Asian culture and heritage through the performing arts to 60,000 public school children in 80 engagements each year.

The Pointed Brush workshops, the visual arts component of the Arts-in-Education explored the creative use of the Asian brush, took place side by side with the Lecture-performances. AADT saw these cross-cultural programs as a crucial tool for children to help prepare them to live in a culturally diverse society.
Community School
AADT Community School offerings began with dance for children, extended to adult classes in dance and exercise, and expanded to visual arts for children, and Chinese painting and seal carvings for adults....


Since its inception in 1974, AADT offered ballet classes for children in the Chatham Square Public Library. In 1976 AADT moved to its own space at 26 Bowery and expanded to offering creative dance and children's art classes. It also offered adult classes in Chinese painting, calligraphy, seal carving, as well as Chinese dance, Jazz, Alexander technique, Jazzercise, Tai chi, and, by popular demand, even ballroom dancing.

Every year, the school activities would culminate in a school recital in a neighborhood public school auditorium for parents and the community at large. They were community events.
Special Performances
After the Tiananmen Square Massacre, AADT initiated and presented a 10-hour performance marathon at the Triplex Theater in the Borough of Manhattan Community College in protest of the student massacre on June 4, 1989 in China. The Memorial performance included many well known New York artists such as Hikari Baba, Fred Houn, and the Susan Marshall Company to name a few. The main feature in the evening was Zuni Icosahedron of Hong

Kong, a company of 12 who flew to NYC to perform China is a Big Garden choreographed and directed by Danny Yung. A new performance was also held the following year, outdoors in Chinatown, commemorating this event, with choreography by company manager/choreographer Marie Alonzo.